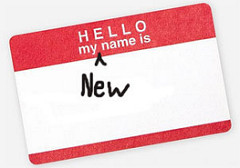 Since the 1990's, there has been a significant increase of transgenderism in the public domain. Increased media visibility with multiple reports on a variety of issues have surfaced, from questions of choice, normality, transidentity to name only a few. These have been discussed within various discourses, i.e. feminist, queer theory, psychoanalytic, sociological. In today's climate of the "democratizing of transgenderism" (Select your Gender, Gherovici, 2010), professionals and academics are discovering new issues that emerge from the transitioning process.
Sexual identity is not a biological given, nor is it determined by any innate factors. In fact, sexual identity is a socio-psychological construction. It is learned through the language one is born into within a dynamic of identification. Identity, sexual or psycho-social, is given and constructed by a loss, a fall from a pre-gendered wholeness into sexual difference. Consider the experience of a newborn infant surrounded by parents and medical staff who proudly announce: "It's a boy!" or "it's a girl!" This inaugural moment marks an introduction to a sexed orientation that is given from without and must be appropriated from within. For both males and females, the human infant "becomes sexed" as Gherovici writes, "without fully symbolizing unconsciously a normal, finished sexual positioning."
In a parallel manner, the act of nomination is also an inaugural moment. Our name, like our sexual identity is similarly imposed from without and suggests a radical alterity. Our name, chosen and selected by an-other in an act of nomination, marks us as a unique human subject. In other words, the act of naming also establishes our identity, as well as our rootedness in a socio-cultural lineage.
It is therefore not surprising that the decision to transgender brings up the question of identity signified by our name. As seen in the article What's in a Name: For Some Transpeople, Everything, to choose a different sex in most cases entails a choice to also change one's name. Some literature is beginning to emerge on the decision and significance of name-changing among trans people.
Name-changing frequently accompanies an act of transformation or a rite of passage, as typified by a religious conversion, spiritual transformation or change in marital status. A sexual transformation inevitably requires the consideration of a name change, both at a practical level (we tend to use 'feminine-sounding' names for girls and 'masculine-sounding' names for boys, although unisex names are also very prevalent today), as well as at a deeper psychological level. Interviews and articles all support the claim that most transgender people either completely change or modify their names.
A colleague of mine who works with a trans population has told me that there are a number of typical ways that people choose their new name. Some individuals ask their parents what they would have been named had they been born of the opposite sex, and choose that as their new name. Some choose a favourite name of their own or even the name of a pet. Still others modify their own name to fit the new sex, such as Tika becoming Tiq, as a way of retaining a link to the original name.
In all cases, it is critical that one choose a name with which one is comfortable, and more importantly, that one's community of family and friends also acknowledge and respect the new name. This definitely helps with the transition process. After all, the decision to transgender requires determination and a radical desire that also demands the valuation of others.